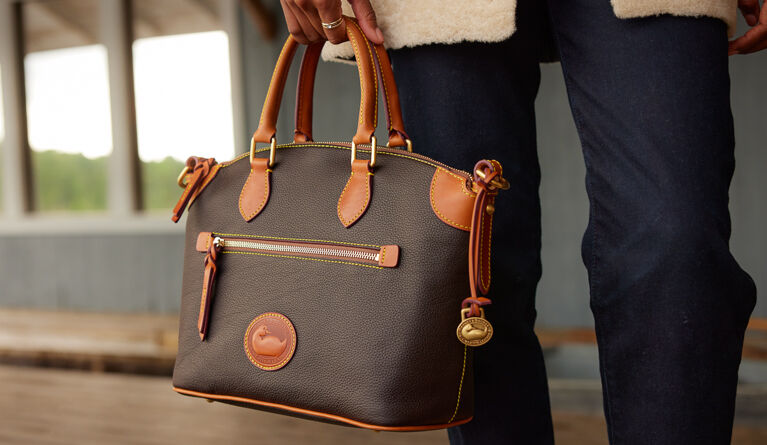 Welcome to Our World
At Dooney & Bourke we are always evolving. We constantly explore new ways to create, and we understand that great style makes a lasting impression. From the beginning, we have fostered a relationship with premier European craftsmen, refining techniques to create high performance materials with enduring quality. The entrepreneurial spirit of Dooney & Bourke remains. We are privately run, independent, and dedicated to the exceptional artisanal craftsmanship that has separated our brand from its competitors.
Timeless Styles. Exceptional Craftsmanship. Unconditional Guarantee.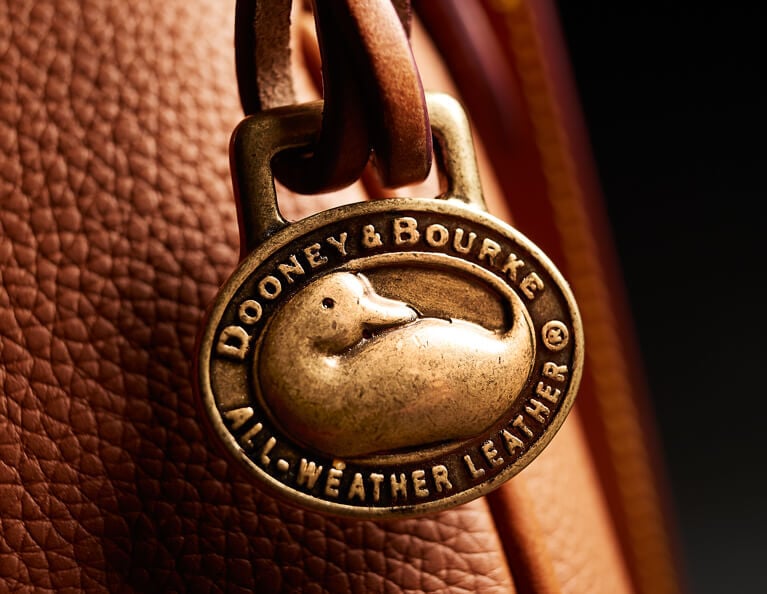 OUR BELIEFS
A Passion for Perfection
Our journey began in 1975 through the bold vision and creative passion of Peter Dooney. An undying desire for excellence led him to Europe time and time again to search for the finest leathers and hardware. His passion for sourcing raw materials was only matched by his obsession for craftsmanship, and he has spent hundreds of hours honing the techniques that would become the signature of the Dooney & Bourke brand.
OUR VALUES
Perfecting Perfection
The core values that guide Dooney & Bourke are based on a drive for excellence. We adhere to our founding standards — quality materials, superior construction and products crafted by exceptional artisans. The goal? Surpass expectations, perfect the process with innovative thinking and dedicate ourselves to craftsmanship.
Our Style
Chic. Now and Forever.
Classic is always in style. Every day, we work to assure that our elegant silhouettes, jewelry-grade hardware and rich European leathers stand the test of time. We defy changing taste with a classic approach to luxury, and our signature styles are always in demand.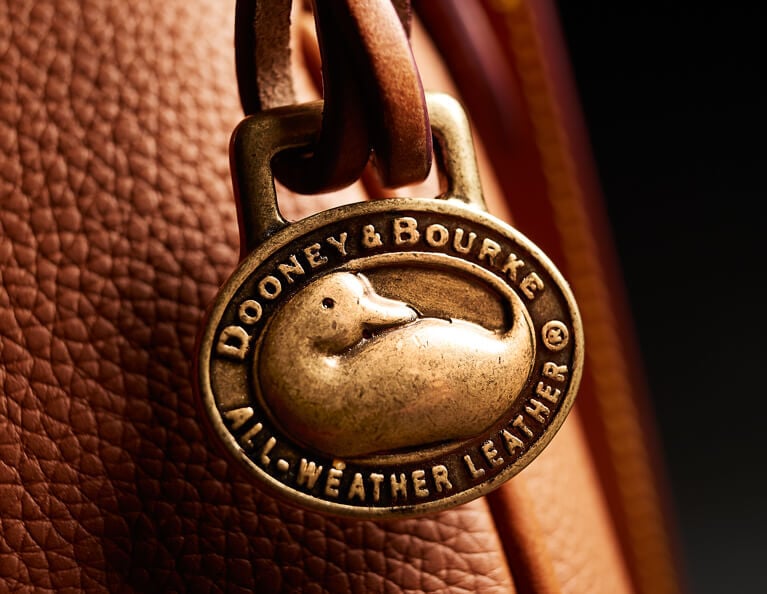 1975
…and so it began
Peter Dooney and Frederic Bourke, Jr. launch Dooney & Bourke, hoping to upend the leather goods market with classic styling and luxurious materials. They kickoff with belts, suspenders, and small leather goods in Norwalk, Connecticut.
1980s
Creativity Soars
D&B flies to the forefront of men's accessories with whimsical suspenders that take Wall Street by storm. We expand into women's handbags and Peter Dooney makes a discovery that sets our bags apart from the competition. Meet All Weather Leather.
1990s
The Go-to Handbag
We become the go-to handbag for American women. Classic style, luxurious materials and durability make us a favorite for travel, business, and everyday. We open our first free-standing store in NYC.
2000s
A New Generation of Devotees
We reach a younger audience with lightweight Cabriolet canvas. We open stores nationwide and a design center in Florence, Italy. We release several campaigns with celebrities like Lindsay Lohan, and our "It Bag" takes off.
2010s
Florentine Favorites
We introduce the Florentine Collection. It's an instant hit, and has been our best-selling collection for a decade. We pioneer exlcusive partnerships with the MLB, NFL and Collegiate schools that allow fans to show off their team spirit in style.
2020s
A Classsic is Reborn
After years of excellence, we reimagine classic perfection with All-Weather Leather 3.0. The timeless durable leather gets even better, simply because we thought it could.
HERE'S WHAT YOU'RE SAYING
"The color is timeless and the craftsmanship is incredible — there's nothing more beautiful than the Vacchetta leather. The craftsmanship and beauty of this bag has me hooked on D&B!"
NCSpalding | Hugo, MN, USA
HERE'S WHAT YOU'RE SAYING
"This is the fourth D&B I have purchased. I am still using the first one I bought in 2005! They are well made, durable and they are beautiful!! I will always be a faithful client!"
Wendy J | Fort Walton Beach, FL
HERE'S WHAT YOU'RE SAYING
"I have bought Dooney for 22 years. The quality is unmatched. They still have the BEST product out there. The stitching, the detail, the hardware, is all great."
DooneyLuva | Tulsa, OK, USA
HERE'S WHAT YOU'RE SAYING
"The quality of this purse is superb, and this is a keeper, as quality never goes out of style. Don't hesitate to purchase a Dooney & Bourke purse, they are absolutely worth it."
Veronica | USA
HERE'S WHAT YOU'RE SAYING
"This is my first Dooney purchase, and will not be my last. The bag is made incredibly well and is flawless and so beautiful. And that smell! I've already picked out my next Florentine bag. Thank you Dooney!"
More than satisfied | Houston, TX
How To Style It
#mydooney